Thursday, March 26th, 2009
---
9:58 pm
- :) :) :)
current mood:
amused
Wednesday, March 25th, 2009
---
1:00 pm
- one of the few things i don't miss about maine...
current mood:
amused
Monday, March 23rd, 2009
---
8:51 pm
- SXSW '09
(cross-posted from ecto, forgive me...)

I'm back from SXSW, and finally out of bed (in retrospect, going to Austin on the heels of a 2.5-week Southern tour wasn't the smartest thing we've ever done :}). Perhaps my impression was clouded by the stark contrast to last year, where there was exactly *one* thing on the schedule I was interested in seeing ... but hot damn, SXSW was awesome this year.



(

warning: contains lengthCollapse

)



ETA: For the crappy camera-phone pix I took while there, see here.

current mood:
exhausted
Friday, January 30th, 2009
---
12:46 pm
- hippo birdies
Happy birthday to my esteemed sibling,
dancinghorse!!

current mood:
jubilant
Tuesday, January 27th, 2009
---
12:30 am
- bravissimo
Yea verily, Robot Chicken has outdone itself this time.

"Wrath of Khan: The (Space) Opera"



current mood:
amused
Saturday, January 24th, 2009
---
2:42 pm
- "something to do with Sir Francis Drake"
Wednesday, January 21st, 2009
---
7:09 pm
- tv meme (because i can't be bothered to post actual information, apparently)
Saturday, January 3rd, 2009
---
12:22 am
- how'd it get to be 2009 already?!
So uh yeah, Happy New Year!!

This is the longest vacation I've taken in a while. I did a criminal lack of work over the past couple weeks, but that's ok. I can catch up this coming week.


dancinghorse did a great job of summing up Xmas here, so I'll just point y'all there. Santa was quite nice to me, too, so yay.



(

NYE etc.Collapse

)



So anyway ... we didn't get going overly early this morning either, and were on the road headed north again around 1:30 pm. We pulled into New Haven at 5, and here we are. Tomorrow the holidays officially come to a close with a friend's post-holiday party, and Sunday I actually have to work, so it's back to reality for me with a thud.

Happy 2009 to everyone!!

current mood:
cheerful
Wednesday, December 24th, 2008
---
2:28 am
- let's celebrate the Ten Days of Newton!
Sunday, December 21st, 2008
---
2:54 am
- 'tis the real reason for the season
Friday, December 12th, 2008
---
8:38 pm
- xmas decorating
The holidays have officially come to casa smoe. We have electric candles in the windows,
wojsvenwoj has hung the icicle lights on the porch (though not sure how long I'll be able to stand the blinkiness :}), and we're watching the South Park Xmas specials that live on TiVo for this time of year. Whee.

We even put up our Pathetic Tree(tm).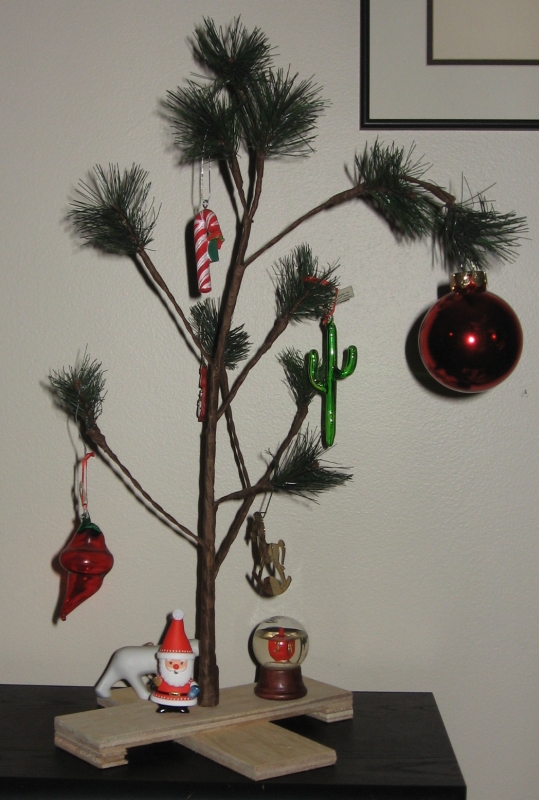 (Yes, that is a dreidel in a snowglobe. Three guesses who gave it to me, and the first two don't count. ;)

Last weekend in Arizona, we helped my mom put up her tree. It's decorated exclusively with her collection of Star Trek ornaments.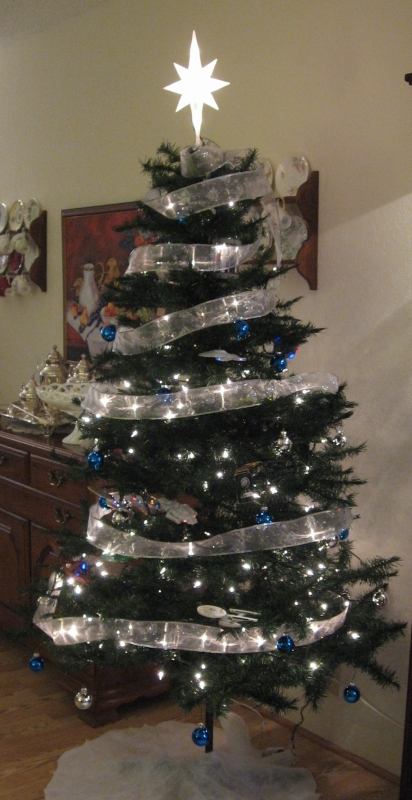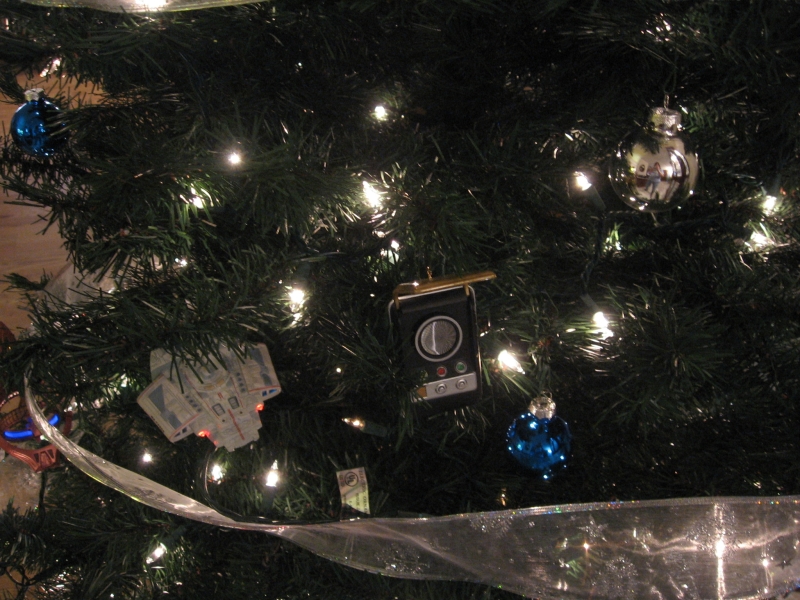 current mood:
pleased
Thursday, December 11th, 2008
---
11:48 pm
- amen, so to speak
11:13 am
- ow. ow. ow.
Warning: today's "Get Fuzzy" WILL cause physical pain. So of course I have to share it with you all.


current mood:
hungry
Tuesday, December 9th, 2008
---
12:37 pm
- mission accomplished
So this weekend
wojsvenwoj and I flew out to Arizona to surprise my mom for her 75th birthday. It was all day of travel on Saturday and all day of travel on Monday just to be there on Sunday, but it was all worth it. :)

(

surprise!Collapse

)



current mood:
pleased
Friday, December 5th, 2008
---
1:17 pm
- droooooooool
Thursday, December 4th, 2008
---
10:30 pm
- fun links of the day
Tuesday, December 2nd, 2008
---
8:08 pm
- from the "check twice to make sure this really isn't true" dept. ...
American Airlines Now Charging Fees To Non-Passengers

Here's hoping The Onion isn't prescient on this one ... I didn't know whether to LOL or cry b/c seriously, I wouldn't be surprised if something like this did happen someday (though United would probably start it, not American).

current mood:
amused
Thursday, November 20th, 2008
---
5:35 pm
- oh, this is SO true
12:47 pm
- sometimes college football players actually do go to class...
Here's a story that is fascinating and heartening ... though really, it's kinda sad that a big-time college athlete who *gasp* actually goes to class (!) is news.

Florida State football player up for Rhodes scholarship

I follow the 'Noles, so I've seen the kid play -- he's quite good. I really hope he gets the scholarship and is able to achieve his dreams.

current mood:
impressed
Tuesday, November 18th, 2008
---
6:58 pm
- yay, dusty!!